Feature: Going for Green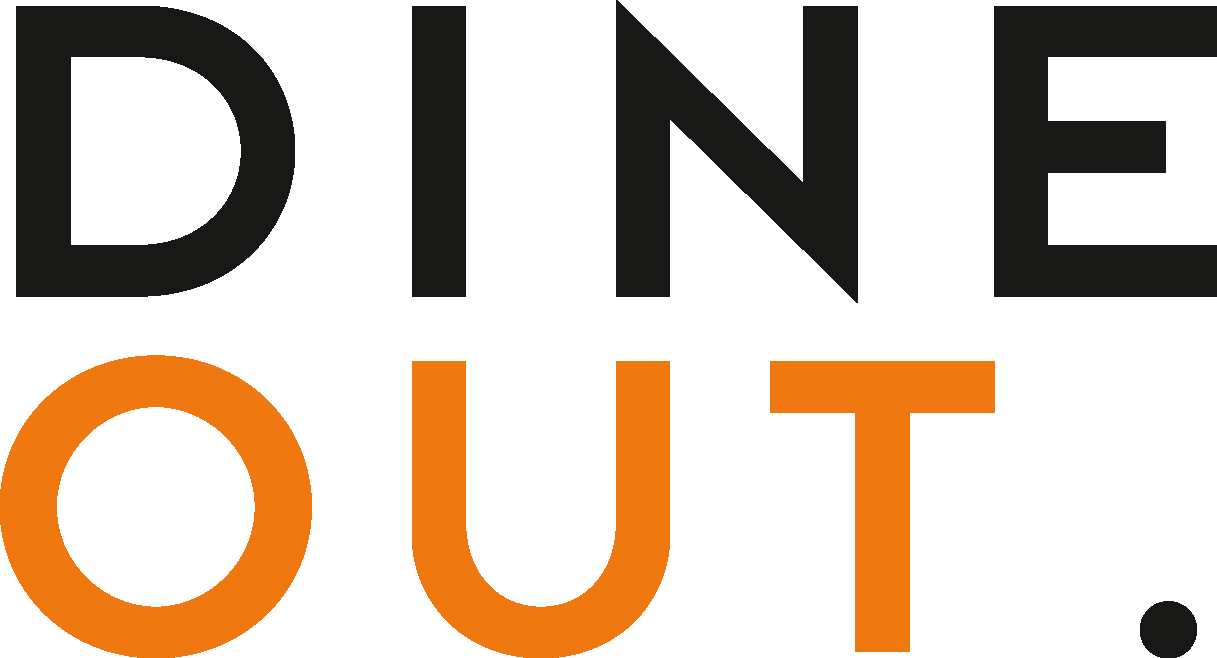 Nov 16, 2023
The sector-wide effort to reach net zero by 2040 is making steady progress – but there's still a long way to go, writes Dine Out's Genna Ash-Brown
The consumer mindset is changing. Anyone who works in a customer-facing role, hospitality-focused or otherwise, will have recognised a shift in the motivations that steer purchasing decisions. A space that was once dominated by convenience, speed of service and the perception of bagging a bargain is now driven by value for money, quality and environmental impact. As noted in previous instalments of our carbon reduction series (see this year's July/August issue), the climate crisis is undoubtedly the single most defining issue of our time. We've now reached the point where, honestly, it's make or break. Perhaps we don't give enough credit to the ever-discerning consumer, whose behaviour changed so meaningfully, and yet so incrementally, that the sector didn't notice its steady evolution until feeling its impact in full force. They are increasingly committed to putting their money where it matters, and leaders of our industry have a duty to stand up and listen to their demands. According to the results of a NielsenIQ study published in January, almost two-thirds of consumers feel sustainability is more important to them now than just two years ago, with 30% claiming this is due to being personally affected by extreme weather events. And with 73% of people saying that buying sustainable food and drink makes them feel good (Mintel Sustainability in Food 2023), the endorphins associated with a planet-first decision-making process means this is, thankfully, an attitude that's here to stay.
The progression pathway
The sector has taken some commendable steps in the quest to net zero thus far. Trade body UKHospitality (UKH) held its annual sustainability seminar on 11 October, revealing figures that demonstrated the success of its carbon calculator. The tool, developed in partnership with the British Beer & Pub Association,  the Zero Carbon Forum (ZCF) and Sky Zero, was launched in April 2022, and created as part of the industry's Carbon Toolkit. At the recent seminar, UKH CEO Kate Nicholls told delegates that over 375 companies across 4,738 sites have accessed the calculator since, all of whom are actively looking to understand – and more importantly reduce – their emissions.
Hotel giant Hilton serves as a model example of how a seemingly small change can have tremendous impact. This year, the brand became the first UK hotel company to introduce carbon labelling at scale, allowing guests across more than 30 venues to make more informed food and beverage choices. Now, every dish available at the group's participating restaurants is marked with a low, medium or high rating using a graduated green scale, based on each menu item's carbon footprint per serving. The brand's newly launched autumn menu features an increased proportion of low- and medium-labelled dishes, which make up more than 85% of the offering. Guests looking to enjoy a low-impact meal can opt for the gochujang chicken wings to start, for example, followed by the butternut squash risotto or posh fish finger sandwich, with the salted caramel affogato (pictured p.24) being a great low-impact dessert option for sweet-treat-seeking guests. This three-course meal results in a 1.2kg CO2e output, which is lower than the national average of 5.17kg CO2e. Since first launching the initiative in May, the hotels have been recording insights based on guests' dining choices. Early findings suggest the introduction of the system has inspired a shift in behaviour, with low- and medium-footprint dishes proving particularly popular. It just goes to show that, when made available to them, consumers are ready and willing to invest in planet-friendly options.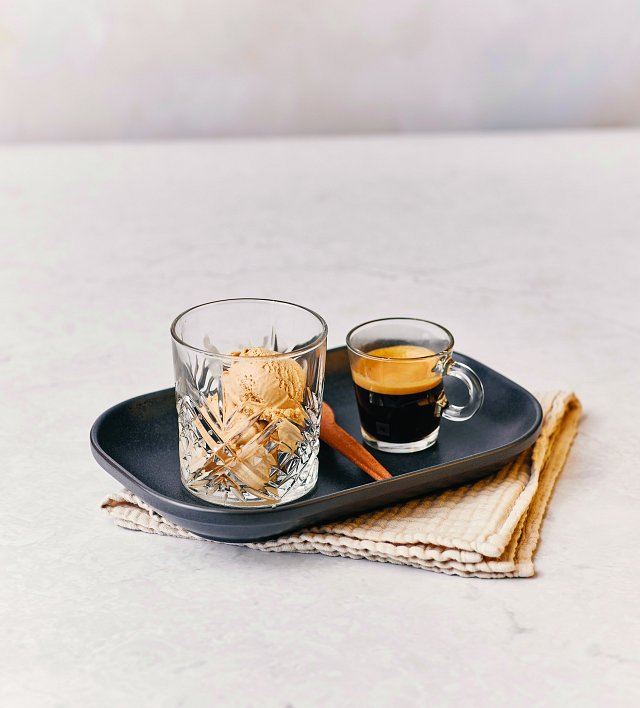 Hilton's salted caramel affogato is a great low-impact dessert option for sweet treat-seeking guests
Pizza Pilgrims, a National Pizza Awards finalist and independent chain more than 20 venues strong, has been running sustainability initiatives for several years. "Our efforts have increased over the last 18 months," says co-founder Thom Elliot. "During this time, we have measured our footprint and set a long-term target for net zero; developed a reduction action plan; established operational practices for energy, waste and water; commenced a programme to engage with our suppliers; and become members of the ZCF. We have dubbed the project 'Planet Pilgrims' to give it larger visibility within the company – and ensure it remains front of mind in all of our decision making."
Mexican restaurant group Wahaca focused on sustainability as it advanced its measured expansion across the capital this year. While laying the groundwork to open new venues in key places like King's Cross, Victoria and several London suburbs, the company has actively targeted landlords and locations that prioritise the environment, increasingly aligning the brand with the surge in conscious consumerism. Wahaca also introduced carbon menu ratings in September, standing as the UK's first major restaurant group to do so at the time.
"We've also been picking the low-hanging fruit, such as energy consumption across sites," says Carolyn Lum, the brand's sustainability manager. "We've moved all our energy procurement to renewable energy and have been focusing on energy reduction in sites with the help of highly detailed energy monitoring. This was recently rolled out with CapEnergy, which has given us amazing insights on our energy usage in sites and the performance of appliances used in our kitchens. Working with and talking to sector-specific businesses – including Net Zero Now, the ZCF and the Sustainable Restaurant Association – has been hugely helpful."
With the carbon reduction debate gaining traction, operators naturally want to keep their equipment running efficiently for as long as possible. A dishwasher that's been running for 10 years, though, no matter how hardy or trustworthy it may seem, is likely to be lacking where heat insulation is concerned. It's worth taking a look because a relatively small investment to bring the machine up to scratch will pay back its value many times over. The size of the tank, volume of rinse water and the chemicals used are critical considerations for those looking to procure a new device – but, over the machine's lifetime, it's actually planned maintenance and training support that will keep consumption at its lowest.
As Paul Anderson, managing director of appliance supplier Meiko, explains: "Restaurant operators understand that futureproofing ensures more productivity from their equipment, with the least possible energy, water and chemical consumption, along with well-managed maintenance and breakdown support costs. Every small, consistent change builds into something much bigger and greener for the sector."
Streamline supply chains
The net zero mission requires cohesive and collective action across every facet of the industry, involving operators, consumers and suppliers alike. In the words of Bidfood's Julie Owst, head of sustainability and change: "At Bidfood, our ambition is to have reduced carbon emissions by at least 90% come 2045 and, as an industry, we need to drive this together – but there is much to consider along the way."
Food miles, high energy consumption and damaging refrigerants have been under the industry's spotlight, so it makes sense that these be the first things operators look when trying to minimise their supply chain's output.
"To combat food miles, operators can take a few simple steps to reduce trips," says Roz Scourfield, national sales manager for Hoshizaki. "Introducing a first-in, first-out (FIFO) system ensures products close to their expiry date are used up, eliminating the need to reorder items. Storing food at the correct temperature also helps to extend longevity – 5°C for chilled food, 2°C to 5°C for dairy, -2°C to 2°C for fresh meat, -1°C to 1°C for fresh fish and -18°C and below for frozen items. Exploring a menu that encompasses tinned and frozen goods is another good option that allows operators to order in bulk."
The bulk buying idea can also be applied to the beverage side of restaurant operations. Bulk wine, for example, essentially encompasses a 24,000-litre bag in a box. "The cost savings, both monetary and sustainably, are undeniable," states Mark Roberts, director of sales at Lanchester Wines. "A FlexiTank containing 24,000L will fit into a 20ft container, while the same volume in bottles would require two 40ft containers. With this comes a significant win on the environmental front, with CO2 savings of up to 40%. We've worked it out as around 2kg of CO2 per km travelled." Around 50% of all wine sold in the UK is shipped in bulk and bottled at specialist facilities, Roberts explains. "Our sister business, Greencroft Bottling, is predominantly powered by renewable wind and solar energy. And the numbers are growing," he adds. "The further away the wine is produced, the higher the likelihood it's been bottled in the UK – around 85% of all Australian wine imports are now bulk rather than bottled."
Pizza Pilgrims has made a great effort to streamline the supply chain across its estate, engaging suppliers, explaining the company's target and purpose, and working to determine the most effective ways to partner. "Significant actions we have taken so far include developing supply chain policies such as a 'supplier code of conduct' and a 'responsible sourcing policy', visiting key suppliers to learn from them directly, and undertaking a lifecycle analysis (LCA) on our mozzarella supply to identify where the biggest challenges are and how to direct resources," Elliot explains. "We are also actively trying to select new suppliers based on their sustainability credentials. For example, all our wine now comes from a family winery in Abruzzo with sustainability at its core."
The group is also working with food producer Harvest London, which now grows all the brand's required basil – which was previously sourced from Israel – in a vertical farm in the UK. "This has saved our business over 1.9 tonnes of CO2 per year (and growing) and has also improved the quality and freshness of our basil – win-win!"
Wahaca has made similar changes, targeting beef and dairy – the highest sources of emissions across the estate. "We are looking at where we source from and thinking about how we can be clever with the ingredients used on our menu," says Lum.
"We are always looking for long-term partners who share the same sustainability ethos. There is a great quote I saw recently from Wildfarmed that said, "Procurement budgets change landscapes." I think who you choose to work with has a big impact not only on carbon outputs, but on biodiversity and soil health, too."
Future vision
So, what should we aim for in the next 12 months? Of course, your priorities will depend on the context of your business and the resources you have at your disposal, but it's up to you to identify the areas that need your attention and prioritise them in order with the most pressing first. Pizza Pilgrims, for example, will first focus on the actions that are directly under the business's control. "We'll continue to develop operational practices, improve internal performance through monitoring and reporting, train our teams on how they can support our ambitions and embed a culture of sustainability," chimes Elliot. "We'll measure our footprint for a second time and benchmark it against the industry, encouraging more suppliers to support our journey, with a focus on our key ingredients. We'll also work to reduce the impact of our buildings and equipment – particularly our ovens – and establish transparent communication of our progress both internally and externally."
At Wahaca, teams will continue to focus on energy reduction using the valuable data they are drawing from CapEnergy. "We have a few projects with our highest emission sources in mind – I hope we'll be able to show a reduction in our carbon emissions associated with beef and chicken."
With the UK's net zero target inching ever closer, every organisation has a role to play in reducing their emissions. No matter which area you decide is best to tackle first, it's important to remember that no action is too small. As Scourfield concludes: "The hospitality industry is well positioned to make gradual changes ahead of the deadline to avoid expensive overhauls that may eventually be required, pre-empting legislation that will inevitably seek to cap organisational emissions. It's unsurprising that operators are sticking to baby steps at the moment, but they are moving in the right direction."
You may also be interested in…