Interview: Matin Miah, Rudie's Jerk Shack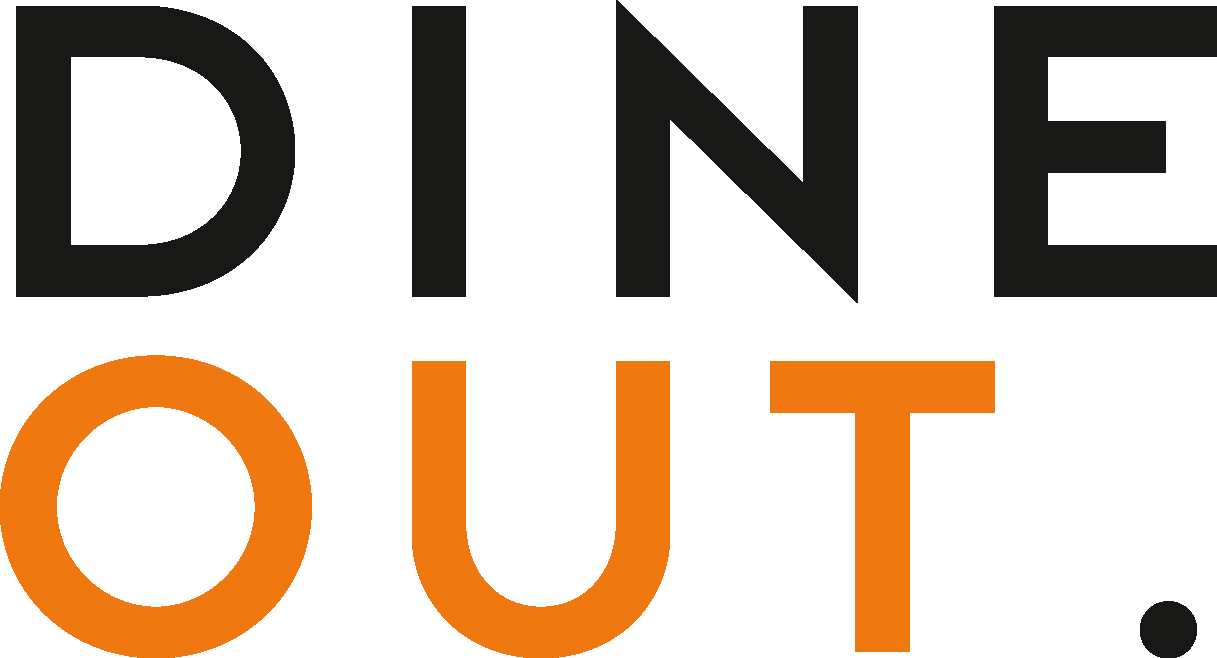 Dec 21, 2020
Rudie's Jerk Shack has created spaces in the capital where traditional Jamaican cooking collides spectacularly with modern British dining. Co-founder Matin Miah speaks to Dine Out about the stops and starts that come with brand growth during a pandemic
Closing a restaurant is never a simple decision. Imagine if that butterfly had flapped its wings a moment later? Would chaos reign or astute business sense prevail? For Matin and Michelle Miah, co-founders of Rudie's Jerk Shack, the significance of parting with the only full-service site in their portfolio before lockdown reached the UK became all too apparent once the terms 'furlough' and 'social distancing' implanted themselves firmly in the country's daily vernacular. 
Ten months later, and things are looking a lot different for the Jamaican eatery – which has since ventured back into a full restaurant site in Brixton Village, which opened following lockdown 2.0 in December, joining existing casual sites in Borough Market and Boxpark Shoreditch. 
"I'm just grateful that we're still here and having this conversation about opening a new restaurant," says Matin. "It raised eyebrows every time I spoke to someone and said we're opening a site. They were surprised, but in a positive way. They know it's great for the industry and it's good for our staff. People need that hope and positivity right now."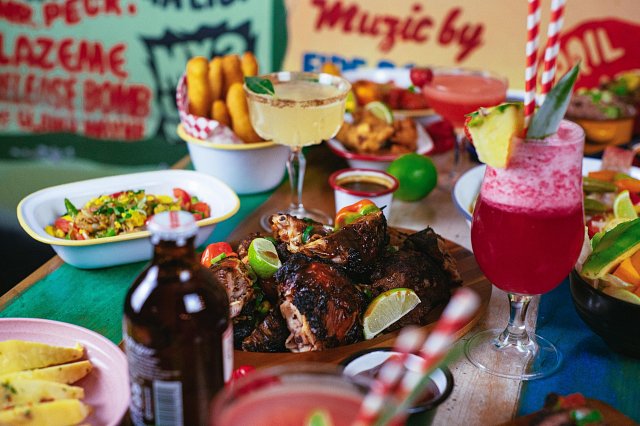 Real jerk
Rudie's story started in Dalston five years ago, when Matin and Michelle first opened a high street restaurant as a love letter to traditional and authentic Jamaican cuisine following many trips to visit Michelle's family (her parents originally hail from the island). The pair toured Jamaica to absorb the cuisine with the intent to bring it to London in a format that would appeal to the capital's contemporary dining scene. 
"The focus was particularly on what we call 'real jerk'," Matin explains. "We learned how to cook the food in a traditional way from locals and in jerk centres on the island, so we knew that would be the core of our concept. We use our own jerk marinade developed over many years, and we cook over charcoal in steel drums. It's become a unique part of our offering compared to other people who serve jerk."
The Dalston site opened to much applause, with food critics Grace Dent and Amol Rajan claiming the Miah's dishes to be some of the best Caribbean and jerk in the city. 
"People were really impressed with our set-up, and particularly how we were able to execute authentic dishes in a contemporary, hip, east London setting," Matin says. "When we first opened, we experimented with quite a few things – we tried to push the boundaries. We took our curried goat and served it in a dumpling rather than with rice and peas. But people preferred the traditional way, so we now serve it on the bone. 
Right now, for example, the number one dish flying out is our jerk chicken wrap. We've taken the classic dish and transported it into a different format as not everyone is comfortable eating chicken from the bone. Sometimes it's the small tweaks that work best, presenting dishes in a recognisable way that's accessible to a lot of people. Having said that, jerk chicken on its own remains one of our core dishes too."
With a large bar at its heart, and the legendary rum punch flowing generously, the site's popularity led the Miahs to open two more sites in differing formats at key London food destinations: Boxpark Shoreditch and Borough Market. 
Dalston's closure was already on the cards pre-Covid, and there were discussions around two new sites in Brixton Village and Canary Wharf's Reuters Plaza – though these were put on hold once the pandemic hit. Matin notes that in some ways this decision was a blessing, because attempting to complete the sale any later could have created a whole different outcome. The team managed to navigate the following months trading from the remaining two sites, and by the time Eat Out to Help Out was over, the Matins had their sights set on expanding once again.
"We really utilised the first lockdown to reposition the business, so when we came out, we were leaner, had lower overheads and were able to be more flexible and more responsive to the current climate," Matin recalls. "We're thankful we were able to do that, a lot of businesses weren't. We came out of the blocks very quickly, refined and streamlined our menu to the core items and reviewed our price points. The customers thankfully returned. 
"Boxpark was heaving and Borough Market remained popular, so we knew the loyalty and demand was there. Things were looking positive in that time, so we even went as far as to commit to those new sites in Brixton and Canary Wharf."
The duo negotiated some "cracking deals" with landlords, given the state of the market and their brand strength, which took into account the fact that the next six months looked likely to be very challenging.
"We committed to those without realising there was going to be a second lockdown," Matin adds. "Our soft launch date for Brixton was set for 5 November and four days beforehand we learned there was going to be another lockdown. It was a hammer-blow. Just demoralising. But we quickly tried to look at it as positively as we could. We put a lot of our staff on furlough again and tried to mop up as much of the business as possible."
Refusing to become downbeat, the team took its time to get the Brixton site ready to land with a bang once lockdown 2.0 was done and dusted, opening a few days before the official launch for deliveries and marketing locally to residents. 
"This is our flagship site, it's a full dining service restaurant with 60 covers over two floors and outside seating," beams Matin. "It's very similar to what we had as an offer at Dalston, in terms of the bar and the kitchen albeit with a slightly smaller menu. But the reason why we feel this is going to be different is that Dalston was on a high street as a standalone restaurant, whereas in Brixton Village – though it's not like Boxpark or Borough Market – it's within a complex. 
"It's a destination for going out to eat and drink; we're in the company of lots of great brands and offerings. While it's a sit-down restaurant, I think the context and the setting will mean we will have a greater chance of getting the level and diversity of footfall that we require for us to be viable in the current climate. We're not having to sell and market as an individual, it comes under a collective brand value we can piggyback on."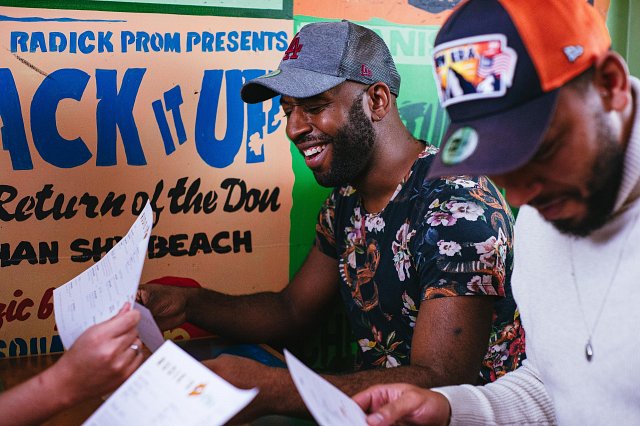 A game of chance
For Rudie's 2020 was a year of pre-furlough lows, lease negotiating, restructuring funding and debt, tier hurdle-jumping and new opening highs. Matin admits that at the start of the pandemic, there was a "real sense that this could be the end". But by the end of the year, he found himself and Michelle celebrating the kickstart to their return to full-service dining and a period of growth. While the pair settle into Brixton Village life, they'll be turning their gaze to Canary Wharf, with their next site hopefully due to open there in early 2021. But Matin's not donning the rose-tinted glasses just yet.
"Losing a month's trade in November, having a situation where we have limitations in terms of what we can do since December and the prospect of another lockdown in the New Year, we clearly don't feel like we're out of the woods yet," he notes. "But I think over the course of the last 12 months we've learnt we can be resilient. We're doing everything possible to protect our staff and business. It's survival mode for now, but we do have exciting plans in the pipeline –we're in quite active discussions with probably three or four more food hall-type operating organisations. When the time is right, we're looking to hopefully expand the brand through that. It would be very unlikely that we would consider a standalone high street site – although there will be lots of those opportunities available now. The risk is just so much higher. 
"Overall, there's a lot of uncertainty, but we're trying to remain positive that we're going to come out of this stronger and better eventually. How long that will take? I don't know, but we're just approaching it one week at a time."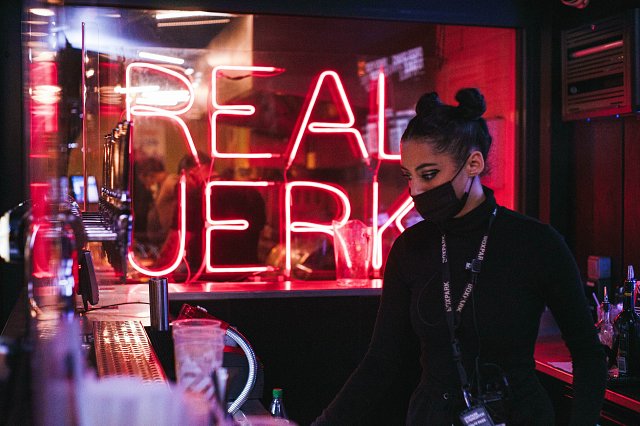 Matin on choosing Brixton:
"Michelle grew up in south east London and her grandmother lived in Brixton, so she would spend the weekends with her grandparents. For me, the first time I visited Brixton Village a few years ago I was struck by the whole vibe. I knew it was the place to be, because of the history, the connection and cultural element – we take pride that this is an authentic take on Jamaican food with black Jamaican ownership. Where else would you want to be other than where the Afro-Caribbean community put down their roots initially when they came to the UK?
"We have curated our Brixton menu carefully to make sure we have a good balance for the locals, who will know what good Caribbean food is, but at the same time we're making it very accessible. We will be cooking on charcoal, and we have classics like jerk pork on the menu, which a lot of other people don't have."
Matin on tiers and trading:
"We've seen a significant drop in trading since September – year-on-year we're probably down 30-40%, whereas in August we were probably actually up 10-20%. 2020 was a topsy-turvy year. Coming out of lockdown and into the tier system, we're thankful that coming out of lockdown 2.0 we weren't immediately in Tier 3, but we know we could move into it. It would be an absolute disaster – I don't know how long businesses can remain viable if this persists. 
"If the industry doesn't get a better-than-usual January and February, I think it will become a real challenge for a lot of businesses. The tier system clearly had a major impact on the ability to maximise sales over the festive period when people wanted to socialise. We're primarily targeting to survive this period and are hoping for the best for spring onwards."