INTERVIEW: Roberta Hall-McCarron, The Little Chartroom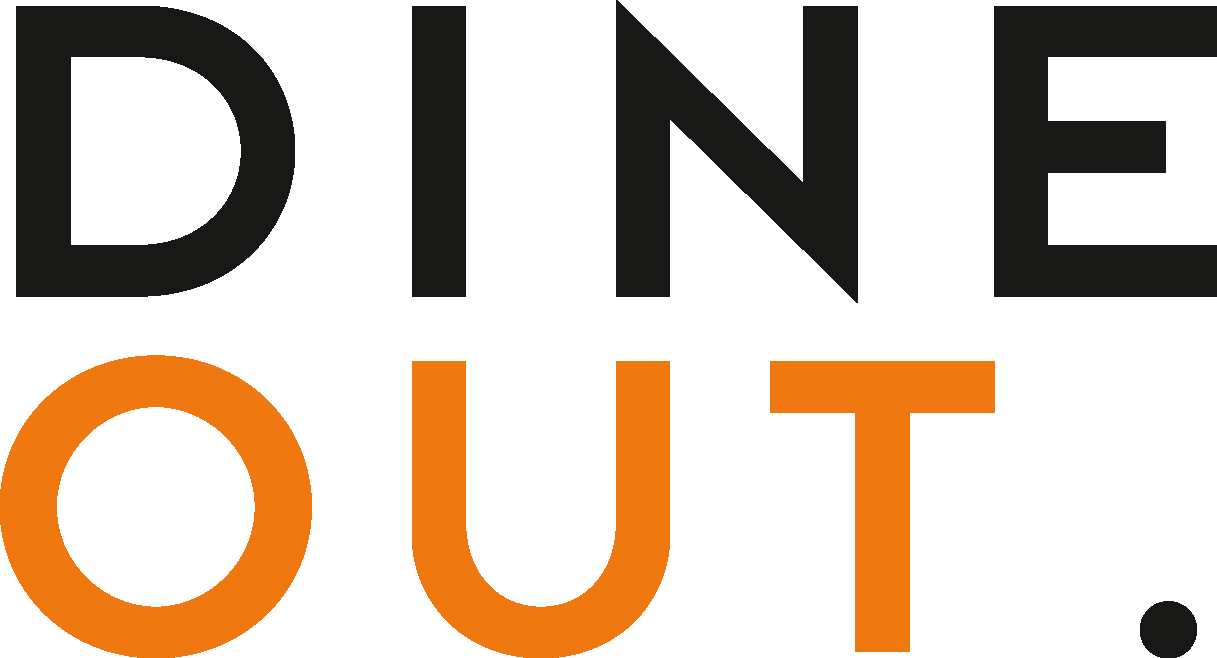 Aug 27, 2021
Roberta Hall-McCarron's The Little Chartroom in Edinburgh is growing up. Here she speaks to Rosanna Spence about navigating the much-lauded restaurant's move to a very different venue 
in the city, and reveals what will take its place 
Developing and opening a new restaurant concept alongside a successful existing operation is a mammoth task. But for Roberta Hall-McCarron (Hall), who opened The Little Chartroom with her husband and business partner Shaun McCarron in Edinburgh three years ago, launching an exciting new venture is only half of the mission.

Hall isn't prepared to get go of The Little Chartroom's 14-cover first home just yet.

"It definitely does have its limitations as a site," she tells me. "We don't really have much space back-of-house. But it's our baby and is something we've built up over the years. It's a wonderful space and the concept we're putting in there will work so well."

Named after one of Hall's family sailing boats, Eleanore will have big boots to fill, despite the site's small footprint. But more on that later. 

I caught up with Hall fresh from the fields of Wilderness festival – known for its gastronomical offerings as much as its music line-up – where she was cooking for chef Ben Quinn's catering operation Woodfired Canteen (originally hailing from Cornwall). There, Hall took it in turns to cook over three days with chefs including Jude Kereama, who joined her on Great British Menu in 2019.

"We all had an input into the menu along with Ben," Hall explains. "To go from the year and a half that we've had to be thrust into festival madness was incredible – it was so nice to see everybody having such a good time, forgetting about everything and letting their hair down."

Hall had barely brushed the mud from her boots before planning to take her team to cook at London food festival Meatopia – taking place across the first weekend of September. 

"I'm feeling quite overwhelmed right now," Hall admits. "We're so busy being away working at these festivals while running the restaurant and trying to make sure everything's going to plan at the new site."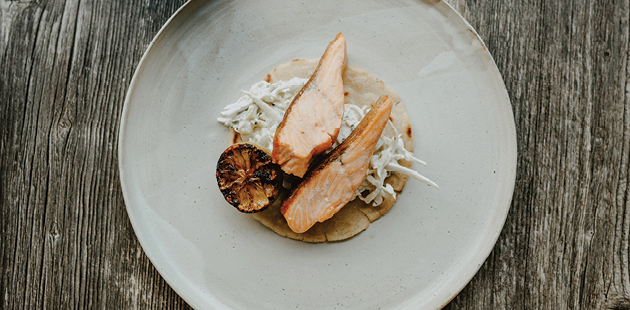 Hall of fame
Having worked in Edinburgh's restaurant scene as a teen and during college, Hall worked her way to become chef-owner of The Little Chartroom bearing an impressive CV – including a stint in Dubai, and more than five years at Castle Terrace with Dominic Jack. 

"When Shaun and I opened The Little Chartroom three years ago we wanted to create a neighbourhood restaurant people felt they could come and eat at twice a week if they wanted to," she explains. "It's accessible and even though there's a casual feel, there is obviously a lot of work and passion that goes into everything we do here. Essentially, we want guests to feel like they are coming round to our house for dinner. I'd like to say we've definitely achieved that and have built up and an incredible guest following."

The restaurant gets its name from Hall's time sailing with her family off the west coast of Scotland. Her mother had created artwork made using parts of her father's old shipping charts – which had been hanging at her home – when husband McCarron suggested they use the pieces to decorate their new restaurant. The Little Chartroom was inspired by a venue perched in one of the locations Hall's family would regularly anchor at. 

The business has lots of support – from Edinburgh locals and beyond – so if the formula is working well, why has the decision been made to move?

"Our covers will grow from 14 to 26 seats," Hall explains. "The idea was never to grow too big. The reason we're moving is because where we're going is such a better space for us. The back-of-house area is incredible. Technically it should enable us to push ourselves forward. 

"It's going to be a bit more of a grown-up restaurant compared to the original. It feels like a really organic move – even though it's only a 15-minute walk away from where we are now."

The new site is due to open mid-September, if all goes to plan, and Hall hopes that the building – which used to house a cookery school – will provide a more comfortable space for guests of the concept to sit in.

"The entire old demo kitchen is in the main room, to one side," Hall says. "Every table should be able to see the kitchen – although it's such a building site right now! The pass itself is really large and wide so, subject to final plans, we hope to have four stools set up there, where guests can start their meal with a drink and oversee the kitchen for 10-15 minutes."

At the moment Hall cooks with barbecues, and only has access to a gas oven beneath six burners. The new site has the potential for many more kitchen facilities and she's undeniably happy about having a walk-in fridge, which is the size of her current kitchen.

Other changes to The Little Chartroom will include more dedicated front-of-house staff, though Hall hopes that eventually there will be more interaction with chefs and guests, as there is now.

"We do have a basement, which currently has four offices in it," she adds. "We'd like to eventually put a prep kitchen down there, then extend the space out, and put a dry store down there. By January we might be in a position to start doing those renovations downstairs."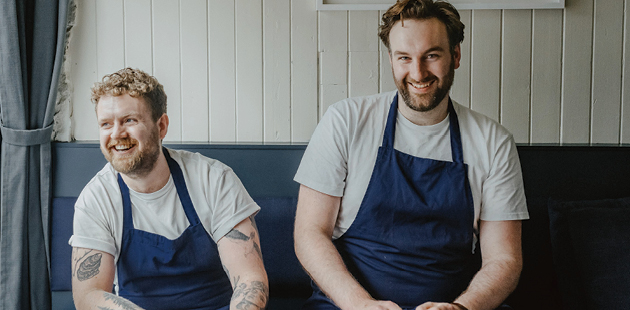 Eleanore 
Hall and McCarron's new concept Eleanore cannot set sail until The Little Chartroom has moved and become fully functional. But once the space is cleared, the same team doing the renovations down the road will move across to alter the layout and design slightly, to give the venue its own identity (though Hall points out it will keep the brand family colour palette – navy blue, oyster white and brass).

"The food at Eleanore will be more casual than what we've been serving at The Little Chartroom," Hall explains. "The menu will change often, so it will definitely be the kind of place you could visit two or three times a week to have a quick bite and glass of wine."

Though the team will be creating smaller dishes, Hall wants to avoid being labelled a 'sharing plate' restaurant: "It's a wine bar-style venue with really great food, that's what we're pushing for."

Two chefs who have already been working with Hall for some time will be cooking at Eleanore – Hamish McNeil and Moray Lamb (pictured, above) – who both until recently were working at Little Chartroom on The Prom, a street food concept on Edinburgh's Portobello Promenade. Now that venture has been wrapped up, they can turn their sights onto permanent kitchens once again. 

"They're fantastic," says Hall. "They are the best team members you could ever have. They're really positive, excited and talented. I couldn't ask for more."

The venue's wine bar feel will be strengthened by replacing the current low seating and tables with higher stools for a more relaxed vibe. The stools will be comfortable with supportive backs to ensure no one is alienated. 

"We like to drink all kinds of wines and we know our guests do too, so we'll be serving a really broad range," Hall highlights. "The list will include old classic, new vintages, biodynamics, orange wines and more. It will constantly change to keep it fresh and interesting."

Hall has ensured her team are now equipped with great wine experience and strong drinks knowledge to confidently talk to guests about what's on offer. The team hopes to be welcoming guests to Eleanore from late October.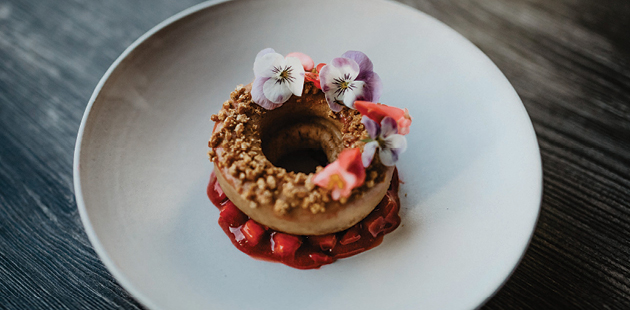 Working on wellbeing
With so much of their plate this year, and with some further renovation work in the pipeline at The Little Chartroom's new home potentially penned in during the team's January break, for now Hall and McCarron are focused on getting the new businesses fully operational. But Hall knows that opportunities are always arising and she asserts that she's always open to ways to improve what the team is doing to make their offerings even better. 

One way the team has altered the way it works is moving from a five-day operation before the pandemic to a four-day working week for both The Little Chartroom and Eleanore (when it opens).

"Our teams are really small, and lockdown taught Shaun and I a lot," Hall recalls. "We love what we do and work hard, but also would like to enjoy our lives. Those in hospitality have missed out on so many life events that our normal 'nine-to-five' friends haven't, so we want everyone to not work too much. It's so lovely having three days to totally switch off. Getting time away is half the battle, so it's really benefitting everybody."

In line with this new structure, Eleanore will be open from Friday until Monday, very much to tap into the weekend market. 

"But there's also nowhere to go and eat in Edinburgh on a Monday," Hall adds. "We decided to open on Sundays because there used to be a bit of a drought, but now there are loads of places open. We expect Monday to be one of our best days – watch this space though, we'll see what happens."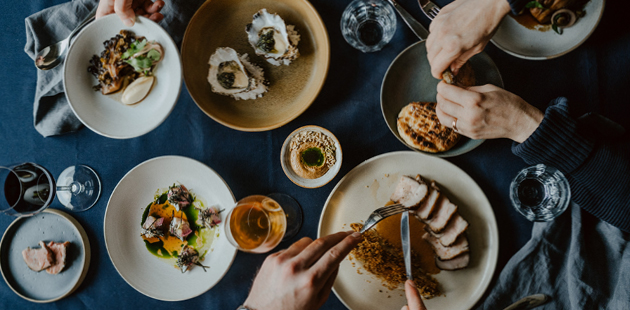 You may also be interested in…