Feature: Bristol fashion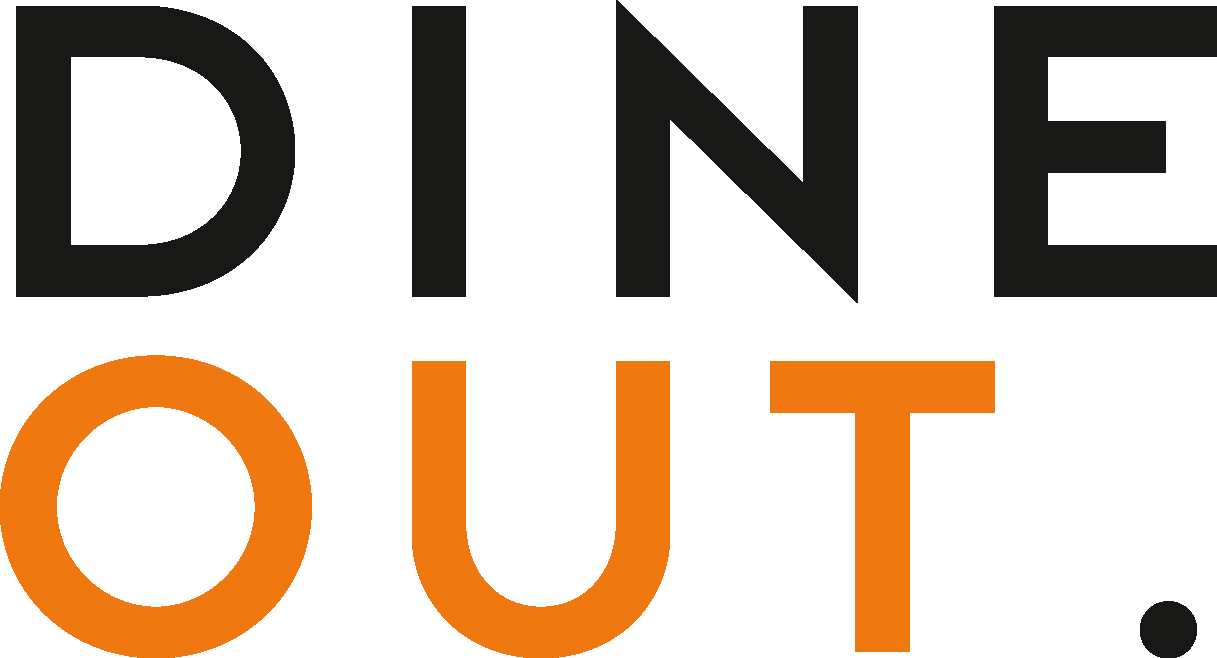 Feb 7, 2022
Josh Eggleton of the southwest-based Pony Restaurant Group is a culinary maverick who gallops at 100Mph
By Genna Ash-Brown
Bristol is one of the most unique and diverse UK destinations. Having lived in the southwest city since 2015, I'll come clean now and say I'm well and truly biased – but there are so many quirks to this bustling place that, once you're in, it's hard not to fall in love. From its revolutionary mindset (perfectly demonstrated by the tearing down of Colston's statue in June 2020), to the way it fully embraces art and culture, right down to its ever-endearing dialect and colloquialisms (alright, me babber?), there's never a dull moment on these heavily muraled streets. But there's another element this city delivers in its own unmistakable style: food.
The Pony's evolution
Josh Eggleton, of the Pony Restaurant Group (PRG), is one man at the centre of the southwest's promising hospitality landscape. The born and bred Bristolian has established some of the most prominent dine out venues in the local area – and it all started in Chew Magna with The Pony and Trap. He opened the pub with his sister, Holly Eggleton, back in 2006, with its hearty, country-style menu earning a Michelin star in 2011.
"Funnily enough, we demolished the pub the other day," he tells me with a grin. "Well, most of it," he adds. "We had these steps out the back of the pub that led to the kitchen. We ripped everything else down, but they were still there. I used to sit there in a puddle of sweat thinking why am I doing this?"
You might think that tearing down your very first bricks-and-mortar site as a restaurateur – which grew into a multi-award-winning gastropub in just a few short years – would stir up some warrant emotion. But apparently not for Eggleton. "Of course not," he laughs. "Everyone keeps asking whether I'm alright – of course I'm alright! Sometimes to make things better you've got to strip them right back. I've been thinking about this since day one."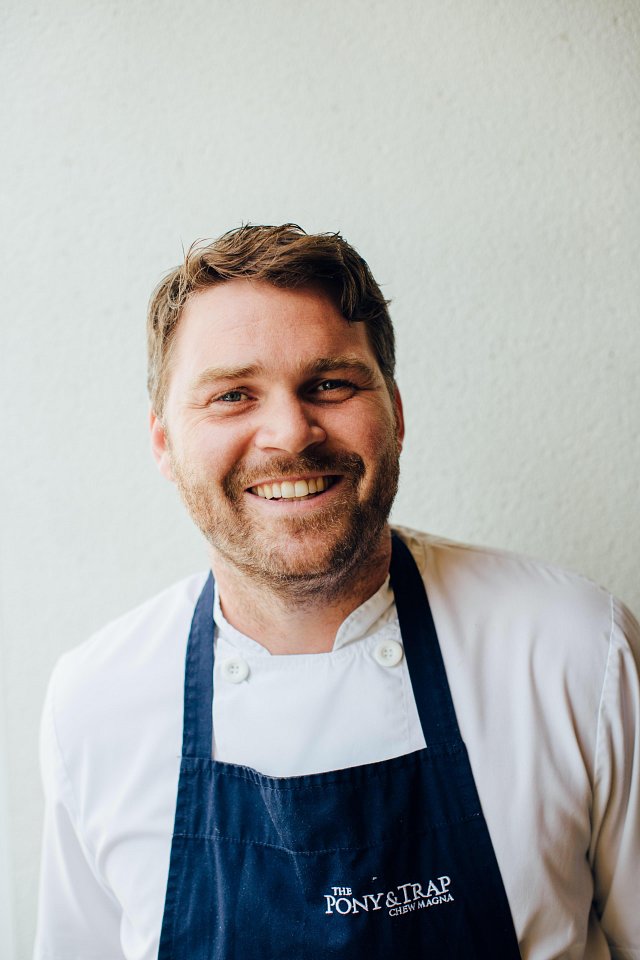 Josh Eggleton (Image: Ed Schofield)
'This' refers to the pub's transformation, which has been underway since its closure last year. The venue is set to emerge from metamorphosis as a restaurant-cum-food education experience. The Pony Chew Valley will be what the chef-restaurateur describes as a "food think tank".
"It's not going to be a restaurant in the sense that this place is a restaurant," he says, gesturing to the walls of the North Street-based Pony Bistro. "It still needs to be a venue, it still needs to provide hospitality, but it has a big objective."
Cooking for the community
For Eggleton to meet that objective, there's a lot of work to be done – and it starts with reinstating the garden into what he calls a "micro-farm".
"We'll service all the veg and teach growing. We'll educate people through the medium of food in the garden," he explains.
On top of this, The Pony Chew Valley will become a wedding venue, offering up to 100 covers and one of the region's most stunning rural backdrops.
"We'll have a venue out the back that will do special events," he adds. "For guests, it will be like looking at a theatre listing to see what we have on that week. We'll do a Sunday lunch, for example, but we'll only do it once a month. It will be planned out for the year. If we used to do, say, 100 covers every Sunday, this will be condensed into 300–350 pre-booked covers once every four weeks. I'm really aware of controlling our costs and if the pandemic has taught us anything, it's that you should take a step back, dump what isn't working and just do what you're good at."
Upstairs in the cookery school, Eggleton wants to create a community outreach facility with the capacity to engage as many people as possible, from all facets of life. "We'll be running courses based on all cooking disciplines," he says. The MAZI Project – an initiative launched to tackle food poverty among disadvantaged youth in the city – will find its new home here, with the chef emphasising that "it will be there for anyone and everyone to use, regardless of where they came from".
Relax, don't do it
The reimagined venue will also serve as head office for the PRG's estate – which currently includes two branches of the sophisticated chippy, Salt and Malt, vegetable small plate-focused restaurant Root; and pub, The Kensington Arms. Additionally, Eggleton has shares in Bristol Beer Factory, next door to Pony Bistro – which is also owned by the chef-restaurateur. The Bistro is the most recent addition to the group, which Eggleton and his sister opened last year. Initially, the concept was launched at Breaking Bread Bristol – a food festival the chef helped launch alongside a collective of some of the most popular industry names in the city: Pasta Loco, Pasta Ripiena, The Love Inn and The Pipe & Slippers. "We did a pop-up Pony and Trap at Breaking Bread and people were lapping it up. It was great!" says Josh. "I'd always wanted to do a bistro-style Pony and Trap which has nothing to do with the pub.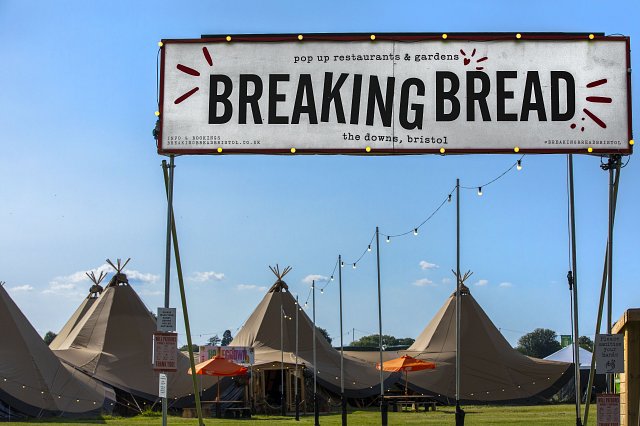 Breaking Bread Bristol
"If you look at the design, it's more influenced by mine and my sister's personalities." The Eggletons wanted their new space to reflect more of themselves, putting their personal stamp on the brand they have worked so hard to grow. "We've got our art collection in here," he says. "And then I wanted round tables so everyone could see each other. We opened in 2021 so it also helped with making sure guests were socially distanced." It's a welcoming space which somehow manages to perfectly blend a relaxed and rustic feel with a cool, cosmopolitan interior. The irony of someone who never rests on their laurels creating a space and possessing a manner that seems so open and easygoing doesn't escape me. But in the time I spent with Eggleton, I can say with some certainty that his character is somewhat of an exciting 'wildcard' mix of chilled out and impulsive…
The Chicken Shed saga
In 2016, Eggleton opened the Chicken Shed in the Cargo 1 site now occupied by Root, but the venue closed again one year later, much to the surprise of locals. When I asked why, he replies: "Because I wasn't happy with it. I'm not scared of change if something's not working. Financially, it looked alright, but everything else didn't feel right."
While the chicken concept was profitable, Eggleton felt that his staff weren't happy and he struggled to hire good chefs at the time. "Nobody wanted to order [what I would consider to be] the nice bits where I would have used the whole organic chicken – so, the chicken liver on toast, or chargrilled breast or roast chicken – they just wanted a chicken wrap or a fried chicken sandwich. Everything was covered in grease!" he says with part amusement and part dismay. "I didn't want to do that. I was driving in one day and thought, 'I know what I'm going to do – I'm going to flip the menu. I'll cook vegetables with a bit of protein on the side – blow-torched mackerel, a bit of lamb belly and an oyster, they will be the side dishes.' So that's what we did."
Eggleton converted the space almost instantly. He closed shop on a Saturday, painted the walls, took out the fryers, added a few new plates, changed the logo from 'Chicken Shed' to 'Root' and opened again the following Tuesday. "Everyone turned up for fried chicken and we just said, 'sorry – we don't do that anymore," he adds with a glint in his eye. "I said we were going to be unorthodox and change it overnight, and honestly, it just blew up."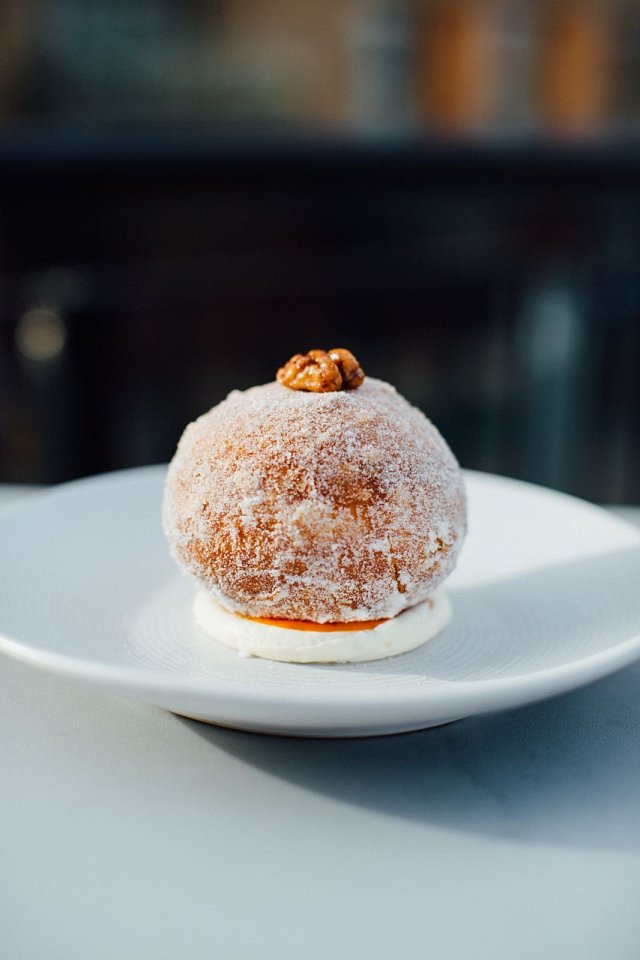 Root's carrot jam donut (Image: Ed Schofield)
Unorthodox seems a fitting word to describe the way he thinks about his business. When I mention how far away the two ideas are from each other, Eggleton assures me this is no coincidence.
"Everything I come up with has a subtle message," he states. "From my experience with the Chicken Shed (which I intended to be sustainable, to use the products 'beak to tail'), I believe we should all eat less meat." So, there you have it; how Chicken Shed became Root.
This one's for you, Bristol
The PRG and its creator embody everything I love about this city: they are progressive, big-hearted and there's simply no telling what they might do next. Eggleton has helped make Bristol's restaurant scene what it is today, and has been fundamental to putting the region on the map for one-of-a-kind, food-focused events. His work continues to allow people to connect with the food on their plates as well as with each other – even in times as challenging as the last two years. When Josh Eggleton is done here – whenever that might be – there's no doubt that he'll have left the industry and the city he calls home in a better way than he found it.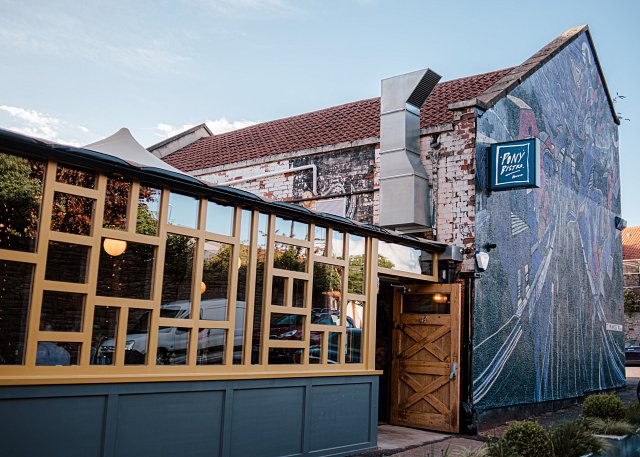 Outside of the Pony Bistro, North Street
As we finish up, he points to the wall behind me, saying, "This is the timeline of The Pony and Trap. That's our first menu there," he gestures to picture frame to the right of my head. "It's 15 years old," he says, and I can see from his reflection in the glass that he's smiling again. I think he's probably a bit more sentimental than he might like to let on.
You may also be interested in…