Feature: It's oFISHial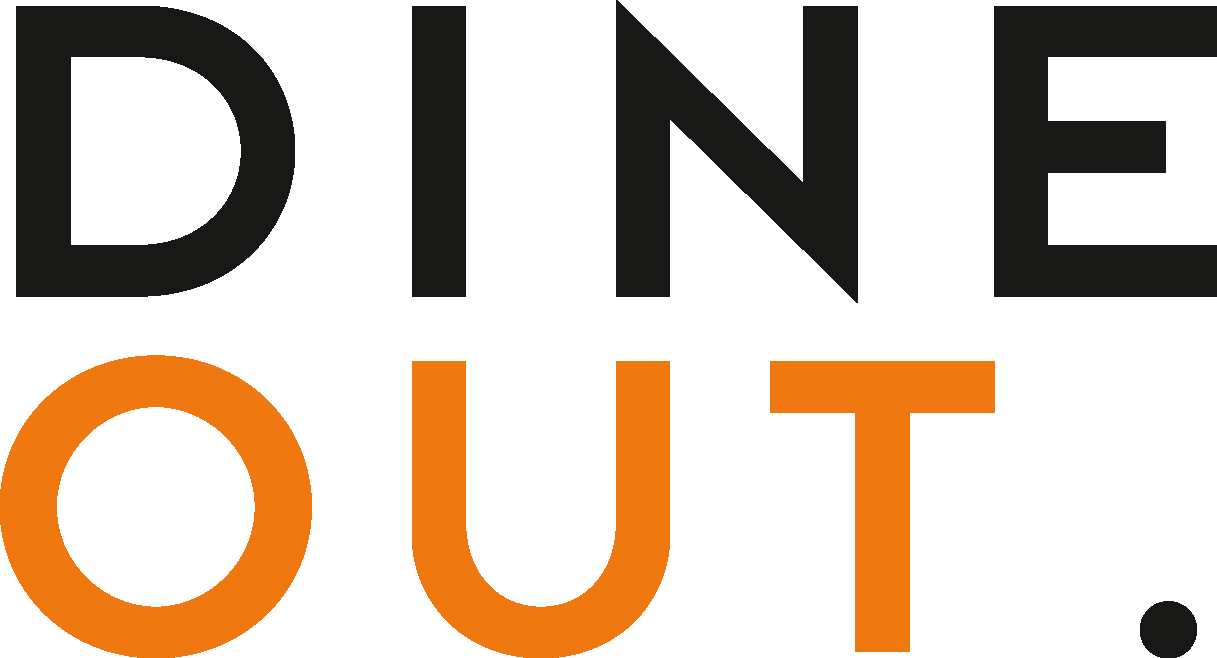 Sep 5, 2023
Poised to be worth over US$730bn by 2030, the global seafood business is booming. But with concerns over animal welfare and the environmental impact of fishing, responsible sourcing and minimising waste must be top of the hospitality agenda
---
The consumer mindset is changing. Tuning into a collective conscience that's intent on preserving the planet, the throwaway consumerist culture that has so far defined the 21st century is withering before us.
The global green movement has opened our eyes to some of our most harmful production methods, with food choices seeing a seismic shift as a result. According to YouGov data, one in eight Brits (12%) now identify as flexitarian, 6% are strictly veggie, 2% are vegan and 3% are pescatarian. Between 2011 and 2021, meat consumption across the UK fell by an impressive 17%. But with meat accounting for 60% of all greenhouse gases emitted by food-based industries, steering global heating and land degradation, these efforts – while commendable – are simply not enough. In fact, it's not nearly enough by half, with the 2021 government-commissioned national food strategy for England urging the nation to cut meat consumption by 30% within the next 10 years. The move away from beef, pork and poultry products has driven a surge towards more veg- and seafood-based diets. With the public domain rife with horror stories surrounding the harmful chemicals and anabolic products used to treat and grow meat, it's no surprise that diners are actively opting for alternative sources of protein.
Swimming in potential
Fish is a winning base ingredient for swathes of diners – but is widely loved by kitchen teams too. While it's known as one of the hardest ingredients to master, it can pay off tenfold when done well, both in terms of flavour and customer satisfaction.
Killiecrankie House, a fine dining restaurant with rooms in Pitlochry, Scotland, features a lot of fish dishes on its menu. Chef-patron Tom Tsappis has noticed a change in the way restaurants prep fish, moving away from heavier methods such as pan-frying, deep-frying and heavy sauce-dousing towards lighter means, such as steaming and poaching. "Japan and Scandinavia continue to influence chefs, with cured and raw fish products and preparations continuing to be popular," he says.
Behind, a fish-focused chef's table restaurant located in London Fields, was awarded a Michelin star after just 20 days of trading. For chef-owner Andy Beynon, an innovative ethos really brings the best out of all things seafood, with dry-ageing being one of the most exciting and prevalent processes used by his team. As he explains: "By reducing the water content, we intensify the flavours, textures and overall appeal of the seafood."
Alex Hunter is the founder of The Sea, The Sea – a brand with a seafood bar and terrace in Chelsea and an intimate 14-seat chef's table experience in Hackney. One of the best-sellers at the Chelsea restaurant is the dry-aged sea bass with picadito. "The bass is line-caught by one of our own teams in Looe, where we operate our wholesale service, and then we dry age it in a special ageing cabinet on site," he states. "We serve it raw with a sharp picadito dressing – it's a wonderfully balanced summer dish. At our Hackney chef's table, one of the most loved dishes on the current menu is Leo's Scottish langoustine pastry sandwich – the sweet, light pastry works so well with the langoustine."
This year, adds Hunter, the sector is finally seeing the emergence of 'non-premium' species on high-end menus – something his team have been touting for years. "As with our own menus, we're starting to see the likes of pollock and gurnard at restaurants that would normally feature turbot or halibut. I believe this is a direct response to rising food costs and the consumer cost of living crisis. The trend here is premium quality over premium species."
The Brudenell Hotel in Aldeburgh, nestled on the beachfront of the Suffolk coast, strives to make the most of the season's best catch. Both the lunch and dinner menus feature a 'Tapas by the Sea' selection, available as a starter for one person or a large sharing platter. The tasty choice includes Pinney's oysters, crab arancini, devilled whitebait and crispy squid. On guests' reactions to the new menu, hotel manager Josh Williams says: "There is a real theatre and experience associated with our vast sharing seafood platter, and the native lobster season isn't very long so once it starts, they prove a real hit. Beyond that, the classic fish and chips is always one of our biggest sellers."
The fruits of the sea have always presented an exciting culinary canvas, and while the meat market's loss is the seafood sector's gain, the industry has had its fair share of environmental controversy…
Responsible sourcing
Driven by worries surrounding their health and a desire to live more sustainably, those looking to reduce their red meat consumption are turning to healthier diets with more oily fish, packed with rich omega 3. But, tempting as it may be, responsible food operators mustn't see this as an opportunity to increase the scope of their seafood menus. Eating more fish is not the answer to the environmental crisis, and offering more fish-based options will only exacerbate the issue.
As Dr Daniel Sanchez, fish welfare research manager of food business at Compassion in World Farming, warns: "There are serious welfare issues associated with fish farming, such as overcrowding, barren environments, periodical starving and inhumane slaughter methods. In aquaculture, many carnivorous species such as salmon are fed on wild-caught fish in the form of fishmeal and fish oil. The fishmeal industry accounts for around 0.5–1 trillion fish out of the 0.79–2.3 trillion fish caught every year. This is inherently unsustainable as it is causing a global crisis in overfishing and depleting the feeding grounds for many species, including seabirds and marine mammals."
So, capitalising on the consumer demand for seafood doesn't mean filling the meat-shaped gap with fish. Instead, it's about offering one or two high-quality and ethically sourced options, of which you can clearly communicate traceability with guests.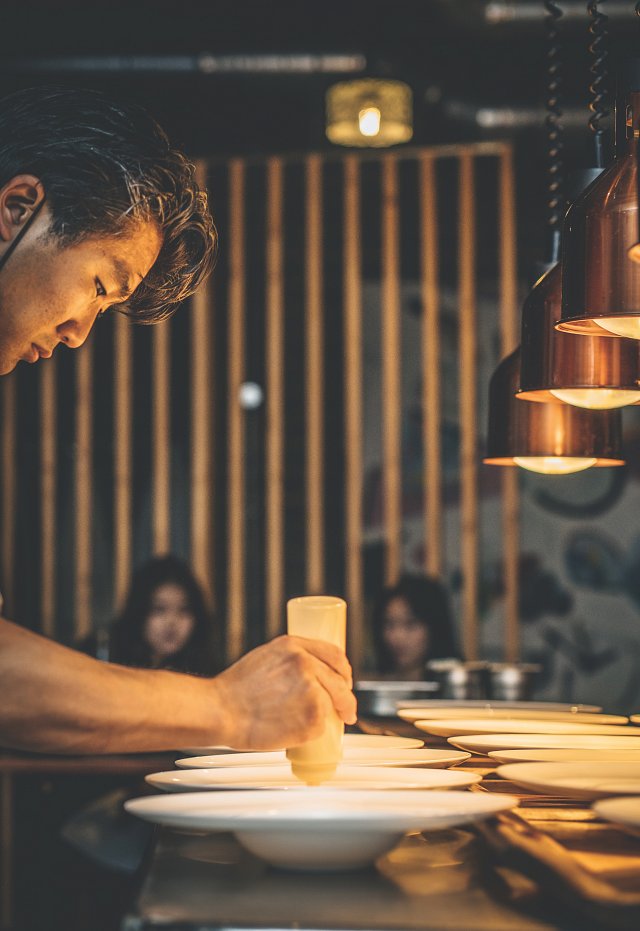 The concentration game (Image: Behind Restaurant/@lateef.photography)
Ryan Blackburn is the chef-patron of The Old Stamp House and Kysty – restaurants located in Ambleside, in the heart of the Lake District. The team have spent a lot of time looking at the food they offer and considering its connection with the wider environment, looking to improve the long-term sustainability of the business moving forward. Blackburn and his staff have found the task of finding wild fish to be a real challenge in recent years, causing them to opt for responsibly farmed sources instead.
"The fish and seafood we source only come from sustainable stocks," he emphasises. "I'm a keen fisherman and probably have more of an insight than most, which is why we refuse to serve salmon. The main reason for this is that salmon stocks are in dramatic freefall – this can be seen in the big Scottish rivers, in Wales and right across rural England and, for that matter, the whole of the North Atlantic region."
Pollution undoubtedly has a part to play in the decline of salmon stocks, Blackburn adds, but intensive fish farming around the UK coast is a cause that's often overlooked.
"Antibiotics, antifoulants, pesticides and other chemicals are used in abundance in salmon farms," he notes. "Like parasitic sea lice, these substances don't just affect the salmon inside the farms, they spread to wild fish species and humans. That's why I'd encourage everyone to consider boycotting intensively farmed salmon. Instead, look to organic, sustainable alternatives, which is something we've done at both restaurants."
So, how can operators balance the increasing demand for seafood with the growing number of questions centred on fish welfare? Well, firstly, by ensuring they know their supply chain.
"Operators should be aware of the journey the fish has taken before they buy," says Dr Sanchez. "The shorter the supply chain, and the more the operator works directly with the producer or fisherman, the better. It will give them greater control over the quality of fish they serve and grant them the knowledge to confidently reassure customers about the welfare standards the fish have been bred and produced under."
Here, Hunter's team at The Sea, The Sea are in a good position, having full control over the restaurants' supply chains. Via the base in Looe, the team are able to source from boats directly, as well as from fish markets located nearby. "This means we have full traceability of every fish we buy and can source from exclusively regenerative fishing methods and species selections," he says. "We prefer to champion 'regenerative' over 'sustainable' fishing because we want to actively support the regeneration of fish stocks, not just try and sustain current levels. This means buying from small day boats using low-impact fishing methods, buying in accordance with seasonality and from well-managed fisheries."
Nose-to-tail
Now the sourcing matter is sorted, it's time to make sure no precious part of that delicious fish needlessly goes to waste. The UK produces around 9.5m tonnes of food waste per year – 1.1m tonnes (14%) of which can be traced back to the hospitality and foodservice sectors. As a huge contributor of harmful gas emissions, pollution and ecosystem degradation, we can no longer make excuses for the floods of food waste produced by the restaurant industry.
"I think it's important to try and use every part of whatever comes in, be that fish or meat," says Tsappis. "With fish that means making the most of things like roe, carcasses, trim and in certain cases, offal. Examples of this that we have used include curing egg sacs from brill to make bottarga, smoking halibut carcasses to make the base of a smoked fish stock and using the trim, roe and muscles of scallops to make XO sauce.
"Monkfish liver is one of my personal favourites. In Japan, they are treated as a delicacy known as 'ankimo', but in Scotland, where we are, they are tossed overboard at sea. If you cure them and poach or steam them gently, you get this wonderful, rich foie gras-esque pâté."
The team at Behind take a similar approach, respecting and honouring the animal's lifecycle and ensuring nothing is thrown away. They receive all fish whole, expertly portioning them out to accommodate the exact number of diners per sitting. "Our commitment doesn't stop there," Beynon chimes. "Every part of the fish is valued. Scales, typically discarded, are carefully set aside and creatively repurposed in our signature fish pie, contributing to a unique texture and flavour. The scales and pin bones, otherwise neglected, are utilised as panné, and we simmer shellfish stock until it's reduced to a robust, natural seasoning. And for our broths, we use whole prawns to extract the most flavour, truly embodying our 'waste not, want not' ethos."
Conscious cooking
In an industry where food as a resource is of the utmost importance, restaurant teams have a wide range of factors to consider when designing their offerings. From looking local and sorting supply chains, to avoiding food waste and choosing resource-efficient ingredients, there's a lot to pack into the environmentally friendly kitchen – but chefs must take it all into account if they are to become truly sustainable and responsible gastronomic masters.
As Blackburn concludes: "You have to be aware of your environment and surroundings to be aware of the relationship between food and nature. This understanding determines which ingredients you use and how you use them. Once you fully understand the whole cycle, it allows nature to inform the choices you make. And, ultimately, it's best to eat seasonally and locally."
You may also be interested in…