FEATURE: In pursuit of perfection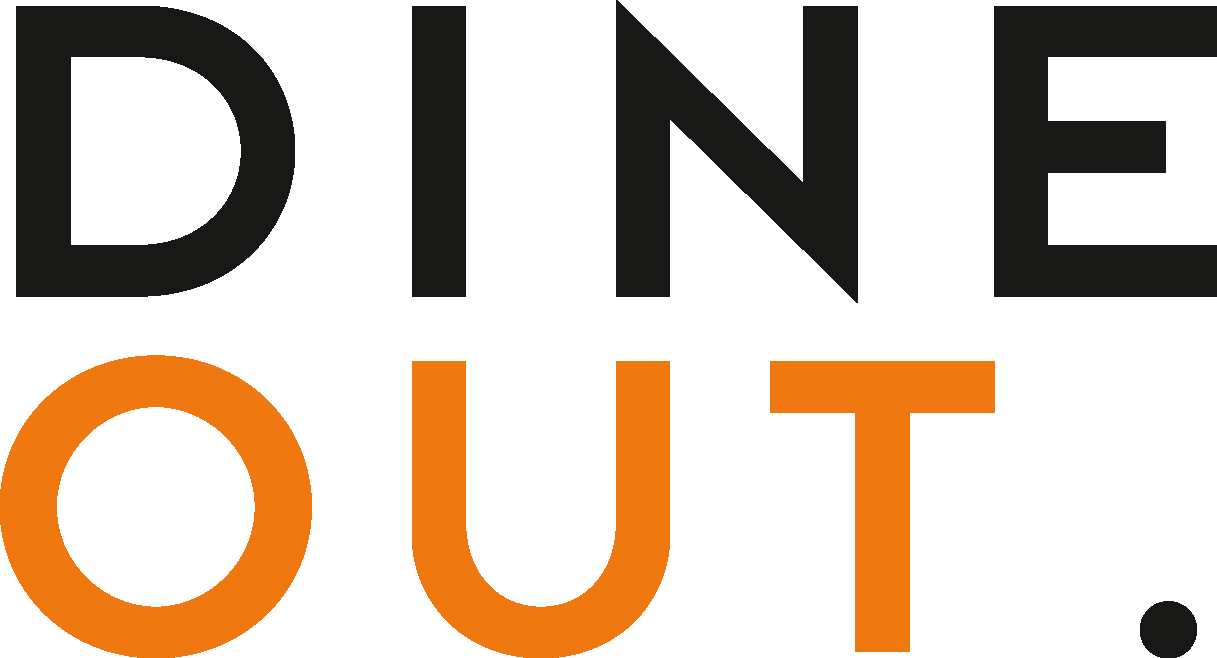 Jun 28, 2021
Rosanna Spence visits plant-based pizza purveyor Purezza to investigate the trial and error involved in creating the ideal dairy-free cheese alternative 
Sometimes, things are not always what they seem. Walking through the doors at Purezza in Bristol, the industrial-chic, minimalist tiled aesthetic surrounds an impressive pizza oven and pizzaiolos weaving in and out of one another.
Diners chatter among themselves, carving through calzones and sharing sourdough slices dripping with technicolour toppings. Everything seems to be in order. 
But tell the uninitiated that the worshippers at this pizza palace are devouring plants – and only plants – and you might get a few raised eyebrows. I was vegan about 13 years ago, and back then the only place selling purely plant-based fare in the small city I lived in was housed above the only wholefoods shop in the area. Don't get me wrong, the food was delicious, but if vegan pizzerias were around in 2008, there's every chance I'd have never returned to an omnivorous diet. 
Purezza doesn't just look the part, either. The team takes its toppings seriously and has been working for more than five years to perfect its vegan mozzarella to create a product as close to dairy mozzarella as I've ever tried.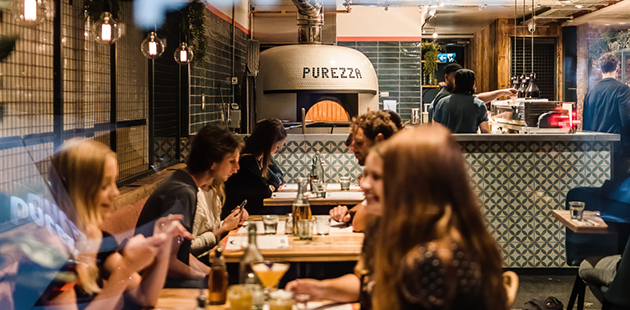 The Bristol venue (pictured), which was the group's newest addition until late June when a site in Manchester opened, welcomes you with a wry smile – it sits in a former barbecue joint. Beef brisket has been replaced by impressive plant-based alternatives for 'Nduja, pulled porketta and more.
On my last visit, I resisted the urge to order the National Pizza Award-winning Parmigiana Party (a crowd-pleasing recipe of red tomato base with smoked mozzarella, aubergine parmigiana, crumbled sausages, topped with a dusting of nutritional yeast) and chose a white base creation with mozzarella, yellow tomatoes, 'Nduja, crumbled sausages, green chillies, teardrop peppers and chilli flakes (pictured below).
My partner opted for a white base topped with smoked mozzarella, roasted aubergine, pulled porketta and oven-roasted potatoes – because carbs on carbs is a divine combination. 
The pizzas taste, well, like top-notch sourdough pizzas should. And that's the crux of it – Purezza's team doesn't see why people choosing a plant-based meal when dining out should feel short-changed. From their visual appeal to mouthfeel, these pizzas are a mastery of vegan dairy alternatives. But rather than rest on its laurels, Purezza is now seeking to market its cheese to the masses, with some impressive retail plans on the horizon. 
It could be argued that there are few vegan pizzas on the market that come close to Purezza's quality. So, I caught up with Rob Trounce, Purezza's head of marketing, to learn what makes the brand's mozzarella alternative so successful, discover the process by which the team created its winning formula, and how the group is steadily making inroads into retailing it as a standalone product...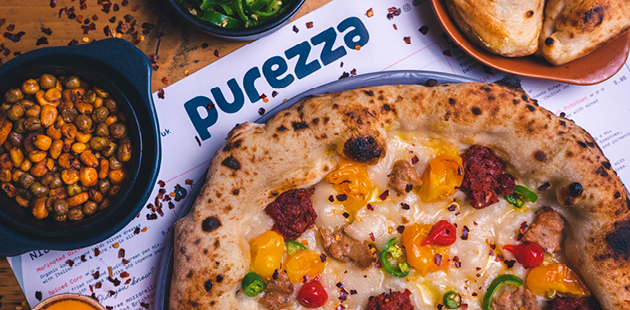 Hi Rob, has Purezza always used its own vegan mozzarella in its restaurants?
RT: In the very early days, 2015 in Brighton, we did use a number of suppliers – big name brands – who are still on supermarket shelves today. We conducted lots of experiments with other cheeses, but a lot of these cemented it into our mind that we wanted to craft our own.
We then rolled out our own cheese in the restaurants in late 2016, about a year after the first restaurant opened. But we opened initially knowing we weren't going to be using a branded cheese going forward. And then by the time our Camden restaurant opened in 2018 we were having conversations about our own cheese's viability for retail.
What qualities should a vegan cheese have, and how have these affected your own cheese production?
RT: When we were experimenting, we had a system where we measured different factors that we wanted to get right. 
The taste had to be a light, creamy mozzarella flavour. The colour, particularly when it melts, needs to be creamy to the eye. A lot of other plant-based cheeses are very heavily coconut oil-based and they tend to go translucent and grey when they melt.
We wanted the cheese to have a creamy and smooth mouthfeel. Though it's improved since, in the early days there was a stickiness in the mouth with many brands. Somehow it was normalised that vegan cheese would get stuck to your teeth. That was something we wanted to eliminate.
Cookability and meltability were also important: we wanted it to behave like you'd expect a mozzarella cheese to. Another problem we came up against with other brands that we tested was that some of them didn't melt at all. They'd come out of the oven looking like someone had sprinkled rice on the top. The cheese just sat there, hard and crunchy.
We wanted the cheese to stay solid at room temperature, and then when cooked at commercial or domestic oven temperatures it needs to melt on different dishes, like a lasagne. For us looking at the retail side of it, we need to consider how people will use it at home in a cheese toastie, for example. 
We also have a big focus on our ingredients content being as natural as possible. So often, you read the label of a vegan product and discover and it's a who's who of strange dioxides, chemicals and synthetics, which we wanted to avoid. And finally, we value inclusivity – so that anyone can eat our cheese if they have a dietary restriction or an allergy. They are safe with our cheese because it's hypoallergenic.
Which base does Purezza use for its non-dairy cheese?
RT: There are three things that make up our base. The coconut oil is one – though we don't use as much as other vegan cheeses – but the other two are a little more unusual. 
We use an Italian fermented brown rice milk, which is a double whammy as it gives us the creamy consistency and lovely colour compared to rival creations (which are a translucent grey colour) and there's obviously the lovely Italian touch. And we also use some chickpeas as well in the production. Those three are our core ingredients that give us the end result. 
Why do dairy-eaters appreciate your vegan cheese?
RT: You don't have to be a die-hard vegan to enjoy this stuff. You ask the average person on the street if they're vegan and the vast majority will say no. But these days, ask them how they feel about meat and dairy – more people than not will say they're trying to reduce their intake. 
Other than a small minority, this is a mission most people side and agree with. The idea that you can create a like-for-like mozzarella that's made with plants, and can reach the same price point, why wouldn't you eat that?
Tell us about your ventures into the retail market – how did this opportunity arise?
RT: We've served hundreds of thousands of pizzas with this very cheese on it and that's given us the opportunity to tweak and hone it. We have this massive customer advantage and structural benefit that we are a restaurant first and foremost. In a sense, a lot of consumer brands would love to get the level of market research we've been able to achieve over the years.
There was an event run by a London plant-based business community called Vevolution, which runs Pitch & Plant – a Dragon's Den-style pitching platform to present to investors. We took part in July 2019, and that's how we secured the first investment of £35,000 to get our retail idea off the ground. We then realised we needed more money than that to get it running properly, so MVK Group, partnered with another vegan firm called Veg Capital and helped raise further investment [to the sum of £2.4m].
We've taken on a business unit just outside central Brighton in Woodingdean. This space is called The Plant and covers three main areas – our core support team are based there; we have the central production unit for the restaurants; and this is also where we'll be making the cheese from a factory space. We have a bunch of huge equipment that does crazy things and shoots out cheese at a rapid rate. We've taken on someone who's been an expert in the retail sector for 20 years or so, who's helping us get it ready.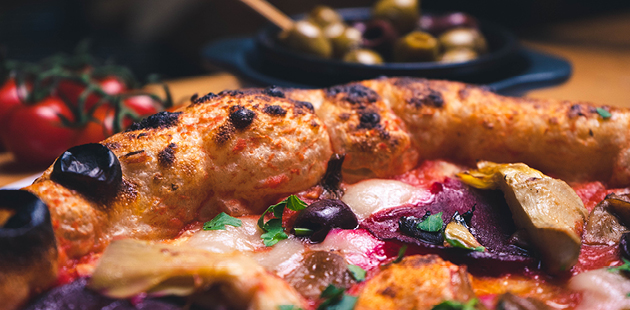 What have been the biggest challenges so far?
RT: One of the big challenges we've faced as we've moved horizontally across the restaurant industry, which we've known so well over the last few years, is working out the specifics of how to do retail. Connecting with retailers, getting packaging right, and getting the trading standards mandate met.
We're looking to secure spaces in supermarkets but also smaller retailers and undertake our own B2C route too. As a brand we have loyal customers who are fanatical about what we do, and the products we make. It's a route through which we can connect directly to them. The supermarkets are definitely necessary, but it's a challenge. 
What are your goals for the rest of the year in terms of your non-dairy cheese production?
RT: In terms of a timeline, we're working with an 'as soon as possible approach' to getting the cheese into retail. There's ongoing learning around the space we're entering. The plan is to have the cheese available to buy online from us too; that gives us flexibility and allows us to be more agile with how we do things and test new products. 
One thing I haven't mentioned yet, is a retail pizza we're working on, using our cheese and gluten-free base. And at the speed it's going, we're hoping to get that out possibly sooner than the [standalone] cheese.  
You may also be interested in…