FEATURE: A sea change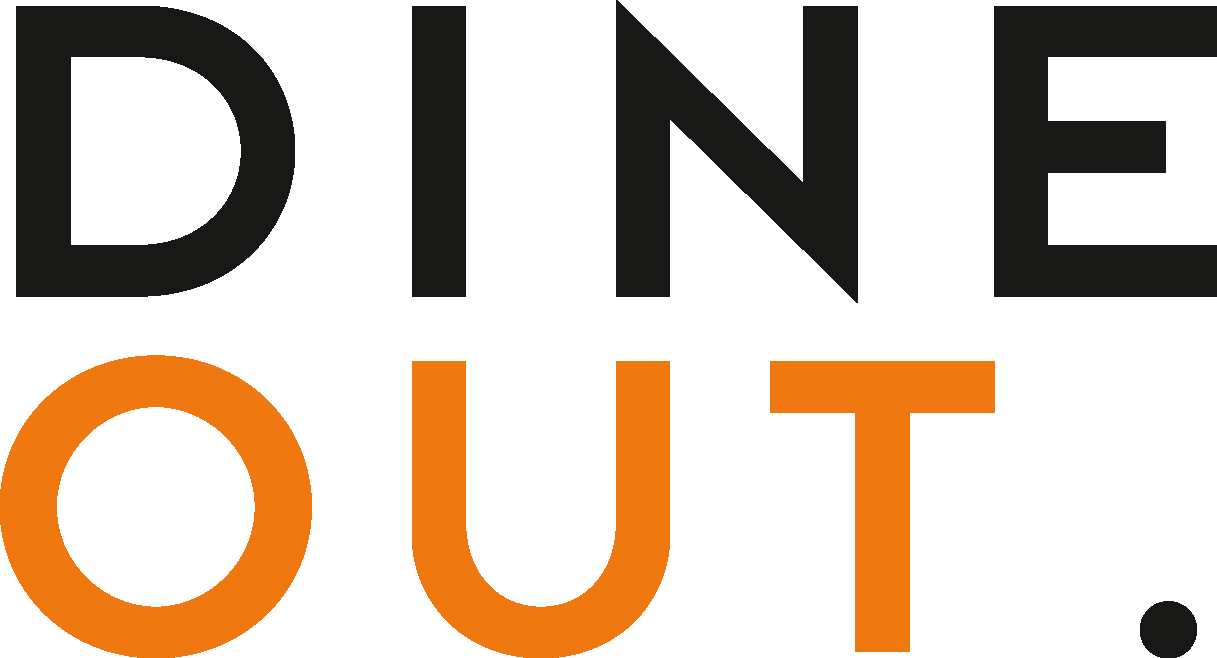 Aug 27, 2021
A sustainable marine menu is essential to educate diners and protect the planet by widening the net of species served across the sector
(Images: Seafish, unless otherwise stated)
Watching the news these days makes it pretty clear that our planet's delicate balance that sustains all life is off kilter. The London Underground is flooding, wildfires are rampaging and if Dine Out readers have watched the Seaspiracy documentary, then you'll be all too aware that ocean life as we know it is battling multiple threats.

Restaurants in the UK have long been championing sustainable sourcing for the fish and seafood that appears on menus. Consider these pages a rallying cry to keep up the momentum and continue conversations with diners and customers from a position of knowledge, so that they know how they can incorporate these values into their lives as consumers.

There are plenty of opportunities throughout the year to shine a light on this essential approach to consumption – the Marine Stewardship Council (MSC), for example, has created Sustainable Seafood Week (10-17 
September 2021).

Even plant-based operators can find ways to support a sustainable relationship with the sea. For inspiration, earlier this year plant-based burger concept Neat Burger partnered with 4ocean (an organisation committed to reducing ocean plastic) on World Oceans Day.

From 8 June, running for a week, Neat Burger pledged to remove one pound of plastic waste from the world's oceans and coastlines with the sale of its signature Filet-no-Fish burger. The event took place across all Neat Burger sites in London where Filet-no-Fish fans were given a 4ocean bracelet to proudly show their support of such a worthy cause. Furthering its commitment to the cause, Neat Burger pledged to support ocean clean-up efforts through 4ocean's Pound+ program, by making a contribution for every Filet-no-Fish burger ordered at one of its restaurants for the rest of the year.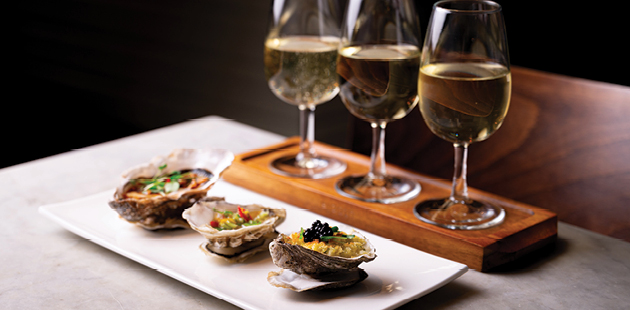 Changing tides
If there's one operator which has witnessed the conversation around fishing and sustainable seafood sourcing evolve, it's Bentley's – the British institution serving seafood to Londoners for more than 100 years (pictured, below). It currently serves customers from its revamped oyster bar and grill restaurant – with dishes including shellfish cocktail, lobster bisque, Cornish fish stew, steamed seabass and more. Bentley's executive chef, Michael Lynch, has noticed a shift in the types of fish in demand from its customers.

"Guests have become more adventurous and are now more open to trying different types of fish," he explains. "We ensure our menu is responsibly sourced by using MSC-certified suppliers."

At the moment, the lobster spaghetti and grilled lobster are proving most popular with guests, but Lynch also has some recommendations to other operators looking to broaden their horizons.

"Coley, pollock and grey mullet are underrated species that can be great to cook with," he suggests.

Staying in the capital, with three venues in Marylebone, Piccadilly and Covent Garden, FishWorks is also keeping responsible sourcing and using the best quality produce at the top of its agenda.

"We have been working with one of the country's leading oyster suppliers, Wright Brothers, for over 20 years to source the best oysters for our customers," says Benny Yong, head fishmonger at FishWorks. "Over the past two decades, we have worked closely with them to ensure that all of our oysters come from the best regions. We monitor the freshness of where they grow to make sure we always get healthy oysters which are in ample supply."
And on 5 August, FishWorks celebrated National Oyster Day with a flight of three different oysters (pictured, above) for £12 – which guests enjoyed with a different paired wine each for an additional £9.
On offer was a baked Jersey rock oyster with caviar, paired with Champagne; a citrusy Morecambe Bay rock oyster ceviche with a crisp Portuguese FishWorks Fernão Pires; and a tangy, Korean-style Lindisfarne rock oyster with an elegant Riesling.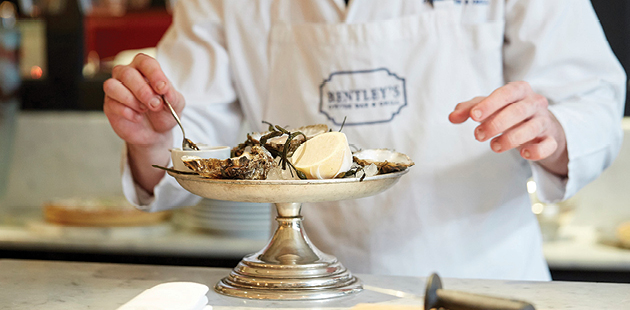 Fishing for answers
For businesses looking to diversify their fish and seafood offering, or to be able to discuss alternative species confidently with guests, there is advice and help out there.

"Many operators have a tendency to focus on five species – salmon, tuna, cod, haddock and prawns – but on any one day it is estimated more than 100 species are available to purchase in the UK," explains Andy Gray, trade marketing manager at Seafish, the public body that supports the UK seafood sector. "With consumers often eating out to try something different, you can capitalise by providing the likes of coley, pollack, hake and even John Dory."

Gray notes than blind taste sampling tests with whitefish species such as cod, haddock, hake, coley and pollack, regularly throw up hake as being the tastiest of the lot in consumers' views.  

"Another often overlooked incredibly tasty species is mackerel," he adds. "Work with your supplier to see what's in season and consider the tried and tested 'catch of the day' specials board."

Love Seafood is a long-term consumer initiative, launched by Seafish in October 2020, aiming to change the nation's perceptions of seafood. Advice it provides to operators includes looking at how the provenance of food plays a role when it comes to purchase intent – particularly with seafood. Being more descriptive regarding product provenance on menus can greatly influence here ('seared Cornish scallops' rather than simply 'seared scallops', for example).

The campaign also notes that equipping serving staff with some outline product knowledge of various species can greatly help in persuading customers to try more seafood. Its advice also points out that a good fish supplier will assist you as a restaurant operator with relaying facts to customers of where and how their fish and shellfish have been sourced. 

There are of course other ways to incorporate less known, but equally delicious species of dish onto menus.

"We must consider that customers want the health benefits of fish and so view its use on menus positively, but few would be able to identify the fish species when used in stews or spiced curries," notes Tarik Ramjaun, chef lecturer at the University of West London. "This gives operators the opportunity to use cheaper and often less depleted fish."

"Given lockdown's effects on small businesses, there will almost certainly be a huge emphasis on supporting local and British produce," adds Tom Bentham, regional corporate chef at Rational UK. "Consumers will look to champion their local community and our British fishermen. Well known fish such as cod will always be popular, but I'd like to see more British fish, like dab, make a comeback onto our plates."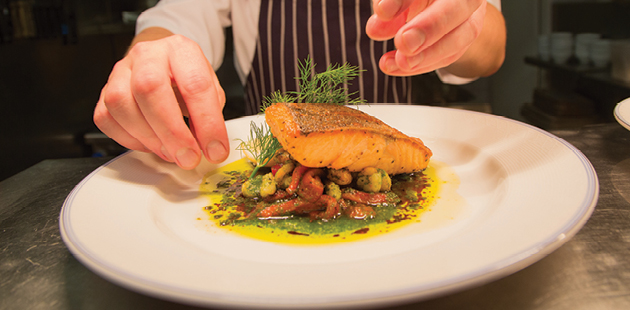 A deep dive into aquaculture 
While flexitarian diets are on the rise, many consumers have looked to decrease red meat consumption and are turning to fish as a source of healthy protein rich in Omega 3. This has, in turn, put more pressure on fish and seafood populations, and this is a reality operators should be aware of when expanding this section of the menu.

"There are serious welfare issues associated with fish farming, such as overcrowding, barren environments, periodical starving, and inhumane slaughter methods," explains Dr Daniel Sanchez, fish welfare research manager of food business, Compassion in World Farming. "In aquaculture, many carnivorous species such as salmon are fed on wild-caught fish in the form of fish meal and fish oil (the fishmeal industry accounts for 0.5-1 trillion fish out of the 0.79-2.3 trillion fish caught every year).  

"This is inherently unsustainable as it is causing a global crisis in overfishing and depleting the feeding grounds for many species including sea birds and marine mammals. The aggressive expansion of fish farming to cater for a higher demand will only exacerbate all these issues."

There's no doubt that consumers are increasingly questioning the welfare of the fish they eat, and the impact modern aquaculture and overfishing is having on the environment and marine life. So, how can an operator balance the growing demand for fish with the growing questions about fish welfare? Sanchez has some key advice from Compassion in World Farming for operators to use as a guide:
Know your supply chain: The shorter the supply chain, and the more the operator works directly with the producer or fisher the better as it gives them greater control over the quality of fish they serve and the ability to confidently reassure customers about the welfare standards the fish have been bred and produced under.
Certification schemes: These should play a big role in the traceability process for operators, and they should, at the very least, only acquire fish that is certified. 

For aquaculture, RSPCA is one of the certifications that covers more welfare parameters, while other certifications, Global Good Agricultral Practices, Friends of the Sea, and Aquaculture Stewardship Council are currently in the process to improve.

Organic production standards such as Soil Association Organic Standard or Organic Food Federation can also be good references to guide fish acquisition. For wild fishing, MSC is the biggest certifier for wild caught fish, but it does not cover fish welfare.

Sustainable sourcing of species: This is particularly important when it comes to wild caught fish. Are the fish you are serving a species in decline or at risk? What is the method that has been used to catch them? Is the fishery managed for sustainability? 

Avoid wild fish caught with methods that aren't respectful to the environment, for example, cod captured using bottom trawls nets many unintended fish and heavily disturbs the bottom of the ocean; properly managed long line fishing should be chosen instead. Once again, the supply chain is key here in knowing exactly from where your fish have come and how they have been caught.  
Labelling: Always ensure the labelling corresponds with the species. One example is cod: European pollock (Pollachius) or Alaska pollock (Gadus chalcogrammus) are often named as cod on the pack although their Latin name will be on the label. 
Correctly named cod from the North Atlantic should be labelled Gadus morhua, or Pacific cod is labelled Gadus macrocephalus. This is important because there are differences in price, quality, characteristics, and carbon footprint.

Welfare standards: For farmed fish such as salmon this means looking at whether the fish are stunned before slaughter, the effectiveness of stunning, and whether the slaughter method is humane. The stocking density should be considered – is it low enough to avoid spreading infestations of parasites and diseases, reduce aggression between fish and maintain water quality? Similarly, are the fish provided with environmental enrichment to encourage natural behaviours and how much care is taken when they are handled – is it kept to a minimum?  

Welfare should also be considered when choosing wild caught fish. As mentioned, fishing methods affect fish welfare and by knowing their suppliers, operators can choose those which use the most respectful methods, this can include effective pre-stun slaughter. There are, for example, boats that fish cod with long-lines and stun them on board before slaughter. This is kinder to the fish and commands a premium price for the operator compared with organically produced fish.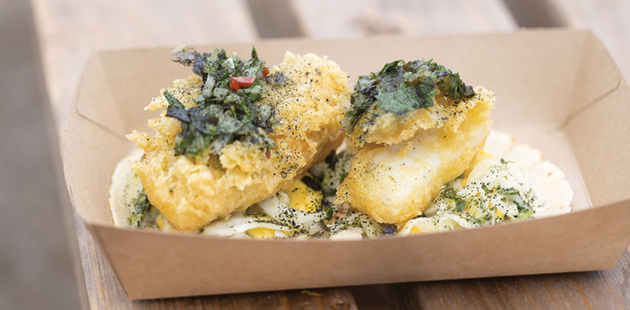 Catch of the day
Industry bodies that can help restaurants with sourcing and other enquiries:

Seafish - seafish.org
Marine Stewardship Council - msc.org  
FishSource - fishsource.com
You may also be interested in…