Restaurant review: The Plumicorn at The Tawny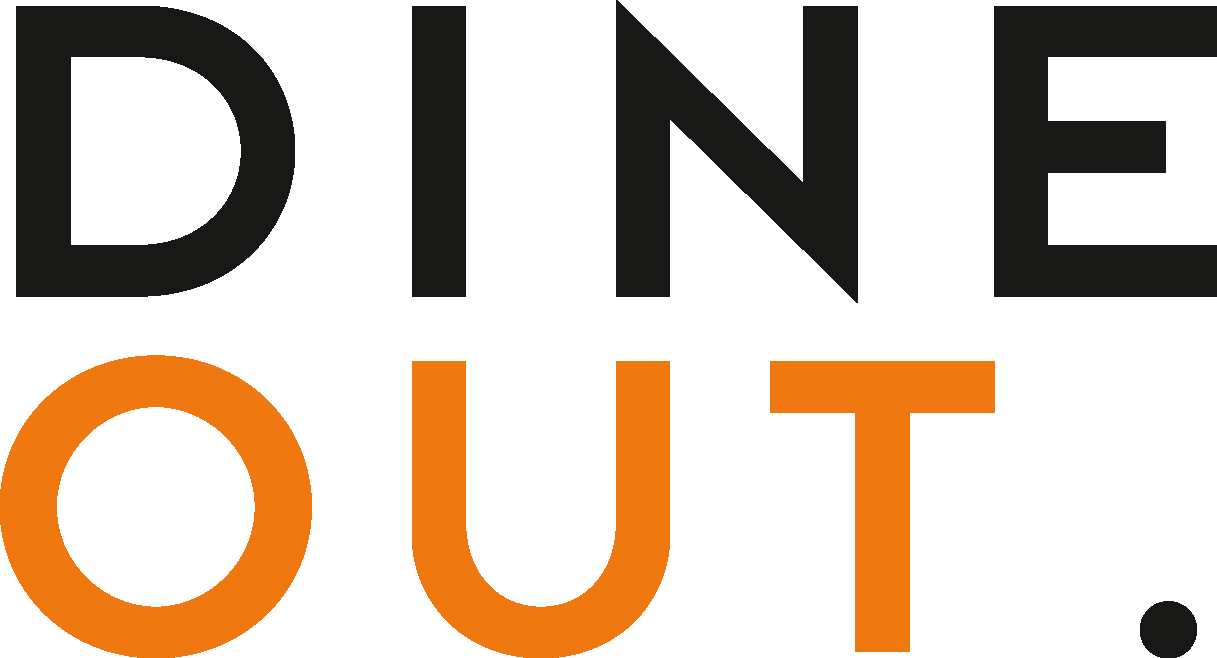 Oct 3, 2023
In our latest check-in on the UK's hotel food and beverage scene, team Dine Out takes a look at The Plumicorn restaurant at the stunning Tawny hotel.

How influenced are you by influencers? Be honest. When you catch sight of one of those reels that's so fast you're not really sure what you're watching, but all you know is that you want to be drinking that specific drink, eating that perfectly presented bowl of food and swimming in that precise infinity pool for the rest of your days… do you then click through to see where this beautiful person has been sent for free, based on the number of adoring followers they have? There's no shame in it – millions do.
Chances are, if you're into this sort of idyllic Instagram content, then you have probably scrolled past a hotel just outside Stoke-on-Trent called The Tawny. This absolute jaw-dropping gem sits on 70 acres of reimagined land in a village called Consall. Within those 70 acres are various accommodation options, including huts, treehouses, boathouses, lookouts and luxury retreats, with the majority featuring the giant outdoor bathtubs you've already vicariously bathed in through your phone screen. In fact, the land is so vast, that when checking in at The Tawny, one of the wonderfully attentive team members will drive you to your room in a golf cart-turned-taxi, otherwise you could be looking at a 10-minute walk with your luggage. 
The great thing is those taxi services are on offer whenever you need to head back to the central hub of The Tawny, which is a twin-peaked, glass-fronted building that houses its food and drink offer and overlooks the immaculately landscaped grounds from the top of the site. This is where you'll find most guests in the morning, deciding between the considered continental offer or treating themselves to any number of decent cooked options. However, to an extent, breakfast is what it is at a hotel – how often do you come away from an overnighter and rave about the first meal of the day? No, where The Tawny really begins to stretch its wings is when its restaurant The Plumicorn (the owl references will keep coming, don't you worry) opens for business.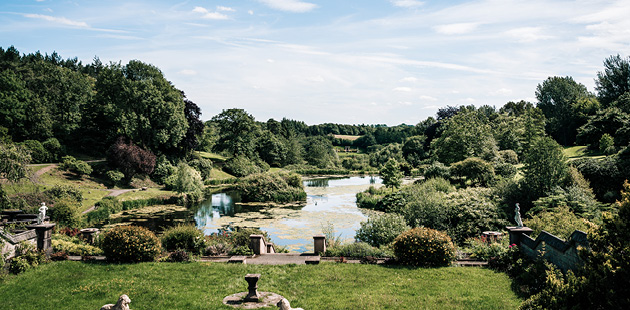 The views at The Tawny
Dinner with a view
When making the effort to stay at such a lavish-looking hotel which, for many, is quite an effort to get to, one would hope that once you get there, the food and drink on offer do justice to the striking aesthetic of the site – particularly for somewhere so remote, as there aren't many other options of sustenance once you're checked in! The question is, when a hotel team is going to such incredible efforts to deliver the ultimate luxury through the grounds, rooms and service, will the food menu receive the same level of care and attention? Well, yes. Yes, it will.
What impressed us most with the a la carte at The Plumicorn was the stripped-back ingredients that make up each dish across the whole menu. There's no confusion or over-the-top complications here – everything included has a justified place in the recipe. Italian cuisine is famed for removing any unnecessary ingredients that obscure a dish's essence, allowing the few selected to deliver the only key flavours that are needed. The chefs at The Plumicorn are achieving such standards with their take on seasonal British fare.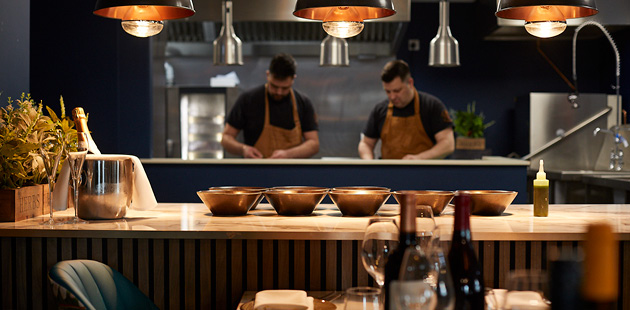 The Plumicorn team on the pass
Take the 'To Begin' section for example. The monkfish is served with delicately pickled orange, crispy chilli and coriander (£10). OK, all that's missing is a cold glass of something white, but that's on you! Among other starters, there's a barbecue courgette with hazelnuts and heritage beetroot (£9.50), which is probably one of the most enjoyable courgettes you're ever likely to eat, and a serving of rabbit with cabbage, radish, carrot and pistachio (£10.50).
The section 'To Follow' is… what follows, again exemplifying that no-fuss finesse achieved by only serving up precisely what's needed for the central point of each plate. There's a pork fillet with Jerusalem artichoke, apple and mustard seeds (£29); a sunflower seed gnocchi with spinach, courgette, baby leeks and kale (£20); cod with heritage tomato, tomato bisque, baby leeks and sea herbs (£28); and, perhaps the feather in The Plumicorn cap when we visited at the end of summer, a halibut served with grapes, brown shrimp, courgette and verjus cream (£33). The latter felt like an almost impossible combination of a dish fit for a sunny seaside escape but then also something you'd happily cosy up with in one of The Tawny's huts, surrounded by trees and the cool air of an autumn evening. Go figure. The point is, it was a superb creation.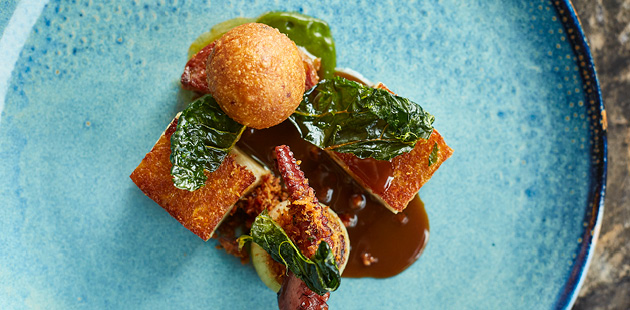 A typical dish at The Tawny's Plumicorn
If you've not brought your sweet tooth with you to Stoke, then there's a solid cheese pairing option to finish off proceedings. However, we'd urge a quick look at what's 'To Finish', as it's a short list of classics done right. Chocolate mousse (£11), strawberries and cream (£11), honeycake (£10), meadowsweet panna cotta (£12) and, the star of the show, a sticky toffee pudding with candied dates and toffee ice cream (£10). No need to call a golf cart at the end of this meal – a walk back through The Tawny's tranquil grounds is the perfect way to digest, reset and do it all again the next day. Just remember to share it on Insta.  
You may also be interested in…